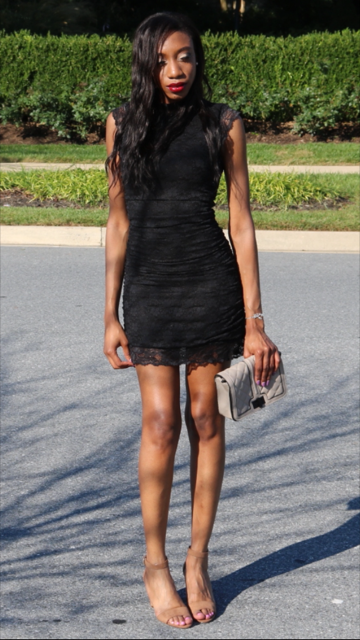 Hello, my name is Nia and welcome to Style by Nia V.  This is a fashion, makeup and lifestyle blog. 
I created this blog as a creative outlet and to show that you can still look good while shopping on a budget. As a fairly recent college graduate with student loans, like most people, I cannot afford designer brands.  Brands do not determine fashion and I hope my blog inspires others to experiment with styles and have fun with fashion no matter what your budget is. I also created this blog to celebrate self-acceptance.  After years of having a negative self-image, I have learned to accept my "imperfections" and I have never felt happier about myself.
Although fashion is my first love, I believe great makeup completes a look. I am still learning how to flawlessly apply makeup. This portion of my blog is a self-challenge and improvement tracking of my makeup skills.
Starting this blog has been a long time dream that has taken me over eight years to begin. My life experiences have taught me to take a deep breath, believe in myself and just begin. And so I did.
Thank you for reading and visiting my blog,
With love, Nia.
Other Information 
General
I am the middle of three sisters. I was born in Great Britain, raised in Zambia and came to the United States of America (Metro DC area) at sixteen where I currently live.
I graduated from the University of Baltimore with a degree in Real Estate and Economic Development. I am working on getting into grad school to obtain my Masters in International Real Estate. (Wish me luck)
Height/Weight
I am 5'5 and weight 112lbs 
What Camera do I use?
Canon EOS Rebel T6i DSLR with an EF-S 18-55mm IS STM Lens. I also use my Phone (IPhone 6) camera.
Who takes my pictures?
My amazing neice. She has been a big part in making this blog a reality and am so thankful for her. 
When did I begin blogging?
I created this blog on my birthday on October 7th. This long time dream is my birthday gift (Only you can make your dreams a reality)
What gave me the courage to finally begin?
The realization that the perfect time to begin will never come. I decided to start now and learn to get better at photography, editing etc along the way. I am currently at a point in my life where I have lost so much and feel so alone. Fashion and Makeup are my escape. I decided to focus my energy into this one positive aspect of my life. The time for me to begin is now!